Return to 50 Webs
---
Disclaimer#1: All images, characters and material is (C) 1990/1991 Walt Disney Company and is being used without premission. The webmaster has made sure that no money was made in the creation of this webpage and that all material used here is used with the upmost affection and respect to the Walt Disney Company and the Tale Spin Team.
---
Disclaimer#2: The views expressed here are solely the views of the webmaster and no one else's. The webmaster has no intentions to change anyone's minds about a particular subject and respects the views of the viewers. Comments about this and other editorial can be E-Mail at gweagle@eastlink.ca or signing the Cloudkicker guestbook.
---
Three Years of Cloudkicking
"Kit.....Kit Cloudkicker.." - Kit, Plunder and Lightning "Plane for Keeps".
July 4th,1998 is usually the day where America celebrates the birth of a country. However; for me it was officially the birth of a new website. The birth of a TaleSpin website......However; this was no ordinary TaleSpin website by any means. (Although no TaleSpin website is 'ordinary'.) This is the very first website which pays homage and respect to Disney's #1 character. He is the cutest, most in-depth young man ever designed by Disney: Kit Cloudkicker. Yes; Disney's answer to drama and excitement from a character who didn't get much respect from Disney. I chose Kit Cloudkicker because I simply loved him as a character and also because there was no website that in fact focused on him. I always figured that there were as many people who loved Kit as there were many people who loved Don Karnage.
Three years; where has the time gone. So; how have I been doing since last year? Well; I can tell you the following that have been able to complete. I've finished the Baloo profile/editorial, an editorial about the symbolic elements of TaleSpin, an editorial for Aces of the Cape called "It's All About School [Cartoons]", and the Eopinions.com review of TaleSpin VHS Volume 3 "Jackpots and Crackpots". I have also updated the tribute to R.J. Williams (Which I will talk about later in this editorial); the TaleSpin Voice Talent Tribute and most recently updated the TaleSpin International Voices section with the German, Dutch and Chinese versions uploaded. But; alas; once again I still fell short on getting everything done that I felt it needed to be done. I still have yet to even start on "The Influence of TaleSpin on the Mainstream", and the WildCat profile/editorial. I have made progress for the second Aces of the Cape editorial "50 Useless Facts of TaleSpin"; although that is about 50% complete. The worst of them all is that my first three fanfics "The Terror of TerraStone", "Unforeseen Impact" and "Rebecca's Diary" have been stalled yet again. Chapter Two of TerraStone is almost complete along with "Unforeseen Impact"; but those two still have at least two or three chapters left in them each, so it is still a long road for them. "Rebecca's Diary" has shown no progress at all; and I might be considering giving the story to another fanfic writer to create. I did manage to blend these fanfics into my sa-ga series "AeroStars" which is still in deep development. The update goes something like this: The Introduction: "The Impact of War" is complete and posted; Chapter One: "The Wesdon Turns" is currently 50% complete; Chapter Two: "ON I Z Power" and Chapter Three: "The Nega Puppet" have been completed on paper and the dialogue has been transferred to HTML format. Chapter Four: "Zabone for Thee" is 50% complete on paper and about 20% dialogue has been transferred to HTML format. I've also started the paper versions of "Klangs of a Feather" already on sence 2 and "Plunder Project J4306". Above all; I did a lot more work over the last year and I intend to continue working on the projects currently on my plate at this time as mentioned above. So there will be nothing new for the most part...... The website is approaching 35,000 hits and the guestbook is filling up steadly.
Now for the rant or in this acute case; a tributal sense of overkill. As you proably guessed from the first paragraph, R.J. Williams e-mailed me earlier this year and thanked me for the tribute that is presented on my website. I still believe that this was an honor to get a message from the voice of my favorite cartoon character and if his latest production 'The Hookup" is any indication; it's safe to say that R.J. Williams is returning to media although more as a director and producer than an actor. This alone got me to ponder and ask this question: Where are our TaleSpin cast and crew right now and what has happened since 1990. Time to answer the question in the usual 'not good enough' matter:
[1.] Jack Angel: I mention Jack first because of the importance of his recent appearance. He plays the role of Teddy in Steven Speilberg's film 'A.I.'; considered by critics as the most hyped up film in 2001. (Not a bad film either) This credit is a huge indication that the old guard that made TaleSpin great are starting to come back.
[2.] R.J. Williams: Its wonderful to see him back; nearing his 25th birthday (which is also the same date as my 24th birthday- July 19th). After six years of schooling at USC and also directed two films while in school; he is now back with "The Hookup" and I also hope that this comeback will be sucessful.
[3.] Sally Struthers: Although her profile has been rather low in Hollywood in recent years; she has still been able to find work in such films as "A Month of Sundays" playing the role of Onida Roy and Out of Black playing the role of Betty. Also she plays Babette Doll in the TV series "Gilmore Girls".
[4.] Jim Cummings: He's been in regular roles since TaleSpin. He was most recently voiced in such animated features such as Shrek, The Tigger Movie and TV series such as Mickey Mouseworks and House of Mouse as small examples. Jim Cummings is also expected to star in the animated versions of The Mummy and Tarzan in 2001.
[5.] Patrick Fraley: He most recently voiced minor roles in two animated films: Atlantis: The Lost Empire and the Japanese Anime Film Princess Mooneroke (sp?).
[6.] Michael Gough: His latest role was the animated film "Lady & The Tramp II: Scamp's Adventure". However; he hasn't been heard much since the animated series "Zorro" in 1997. (Patrick was also a voice)
[7.] Tony Jay: He will be voicing Shere Khan once again; this time in the Jungle Book II sequel. He has also played roles as a narrator in Austin Powers: The Spy Who Shagged Me; Recess: School's Out and Gene Pool in which he played the role of Reinfeld.
[8.] Charlie Adler: He has been in the animated film "The Rugrats In Paris". It is one of the few times where he has actually been a voice in a movie and with animation becoming a much more respectable medium; Charlie will proably be in even more animated films before too long.
[9.] Jymn Magon: Now officially a freelance writer since the release of Quack Pack; Jymn has continued to keep his creative juices flowing. He is continuing his work as a writer and story editor for such shows as House of Mouse and will be writing stories for Team Atlantis and Scary Godmother. Special Thanks to Richard Lowman for this turn of events.
[10.] Christopher L. Stone: He has done two films as a music composer in 2000: Skeletons In The Closet and The President's Man. (Update to Christopher's profile later.)
The point here is that despite the fact that it seems that Hollywood has decided that they are no longer needed in the entertainment industry; they still have a lot of life left in them and I hope that when the Unofficial Kit Cloudkicker Homepage turns four; the momentum will continue on........That's my opinion; I welcome yours. See you next time; hopefully before age four.
---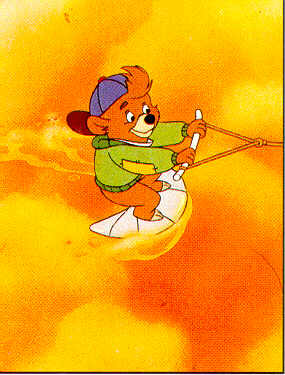 Return to Editorial Index
Return to the Unofficial Kit Cloudkicker Home Page!
---
Special Thanks to 50 Webs for providing space for this webpage. Click here to find out how to get your free homepage and 60 Megabytes of webspace.