Return to 50 Webs.
---
Behind the Voice of Molly Cunningham:Janna Michaels-Parr
7th Update: 02/08/2017- Edited Summary & Credits.
TaleSpin marked a number of firsts and "only's" for the Walt Disney Company in terms of animation. The production staff really took the idea of having almost every child character being voiced by a real child to the limit when they selected Janna Michaels to voice the young six-year old child character; Molly Cunningham; the daughter of Higher for Hire owner Rebecca Cunningham. The reason: Janna Michaels-Parr was only seven years old when voice casting was done in 1989. The scary part is that this is literally her first role as an actress and it wasn't a one-shot deal either. She voiced in 11 episodes in Tale Spin. Molly's voice is too natural of child's voice to be done by someone of middle age. Even her laughing is more childish and something that adult voice actors rarely could match. Although Janna is not as well known as R.J. Williams was to Tale Spin; she did appears in quite a few movies and TV series. Janna Michaels-Parr is apparently alive and well according to some reports; although where she is and what she is working on is conflicting at this time.
Janna Michaels-Parr Film Credits:
1990 (3)
TaleSpin (Animated TV Series): Voice: Molly Cunningham
What a Dummy (TV Series): Maggie Brannigan (Age 6)
TaleSpin Thanksgiving Ad (Animated Commerical): Voice: Molly Cunningham
1992 (2)
P.J. Sparkles (Animated TV Movie): Voice: Glimmer
Adventures in Odyssey: A Fine Feathered Frenzy (Video Short): Jessie Taylor
1994 (5)
Adventures in Odyssey: Electric Christmas (Video Short) : Jessie Taylor
Adventures in Odyssey: Once Upon An Avalanche (Video Short): Jessie Taylor
Hart to Hart: Home Is Where the Hart Is (TV Movie): Unknown
Little Giants (Movie): Young Patty
Blown Away (Video Game): Lizzy
1995 (3)
Bushwhacked (Movie): Kelsey Jordan
Charlie Grace (TV Series): Lynette Farrell
Dr. Quinn: Medicine Woman (TV Series): Sara Sheehan
1996 (2)
Adventures In Odyssey: Someone To Watch Over Me (Video Short): Jessie Taylor
If These Walls Could Talk (TV Movie): Sally Barrows (1974)
1997 (1)
Star Trek: Voyager (TV Series): "Young Kes"
Total Number of Credits: 16
Awards (2 Nominations)
1991 Young Artists Award nomination for Exceptional Preformance by Young Actress Under 9 (What a Dummy)
1992 Young Artists Award nomination for Outstanding Voice-Over in an Animated Series (TaleSpin) *
* - Shared with R.J. Williams
---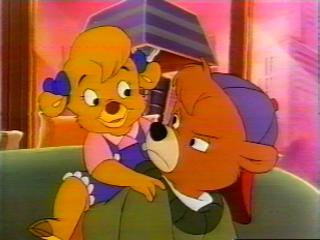 Return to the TaleSpin Voice Talent Tribute
The Voice Behind Kit Cloudkicker
Return to the Unofficial Kit Cloudkicker Homepage
---
Disclaimer: All Images and Material is (C) 1990/1991 Walt Disney Company and is being used without premission. The webmaster has made sure that no money was made in the creation of this webpage and all material represented here is used with the upmost affection and respect to the Walt Disney Company and the Tale Spin team.
---
Special Thanks to 50 Webs for providing space for this webpage. Click here to find out how you can get your free homepage and 60 Megabytes of webspace.