Return to 50 Webs.
---
Tale Spin International Voices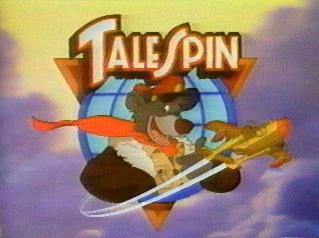 This page is a tribute to all the voice talents who worked on the re-dubbed version of Tale Spin for all countries. The reason behind this is that many Tale Spin fans are not even in the United States. (I live in Canada and I actually watch the French version of Tale Spin called Looping (which is basically a Super Baloo dub with a different intro for Canadian Content Laws.) If you do have voices for Tale Spin in your country; or additional voices for the versions of Tale Spin shown here; Please E-mail me at: gweagle@eastlink.ca.
31st Update: 04/11/2022: Japanese credits added. Corrected the Super Baloo entry for France/French Canadian to include Switzerland and Belgium.
---
Main Menu
TaleSpin Voice Talent Tribute
TaleSpin Crew Talent Tribute
TaleSpin Crew Talent Tribute Part Two
TaleSpin Animation Talent Tribute
TaleSpin Translations Section
---
Los Aventureros Del Aire
(Mexico/Latin American)
Voice Talents:
Baloo Bear            Ruben Moya
Kit Nubarron          Alfredo Leal
Rebeca Cunningham     Diana Santos
Molly Cunningham      Maria Frenanda Morales
Gato Willy            Herman Lopez
Louie                 Arturo Mercado
Shere Khan            Carlos Petrel
Coronel Spigot        Esteban Siller
Sargento Dunder       Francisco Colmenero
Don Karnage           Javier Rivero
Perro Rabioso         Raul Aldana
Myra Foxworthy        Araceli de Leon 
Princesa Lolalinda    Araceli de Leon 
Sr. Comadrejon        Herman Lopez 
Other Notable Credits:
Dubbing               Grabaciones y Doblajes S.A. Del Ville, Mexico
Other Notes:
[1.] The dub voice of Kit did the following dub voices: Dragon Ball Z (Uub), Hamtaro (Dueno De Perro), Pokemon (Tracy, Joe), Cowboy Bebop (Sven Kid), Card Captors Sakura (Eriol Hiragizawa), Narco Terror (Arturo Duran), Harry Potter & The Sorcerer's Stone (Freddy George), Robocop 2 (Hawk), Rocket Power (Twister Rodriguez), Littleman Tate (Fred Tate), The Indian In The Cupboard (Patrick), Leave It To Beaver (Beaver Cleaver), Powerpuff Girls (Child version of Dr. Utomium), Flubber (Kid) and did additional voices for Hey Arnold! and Goosebumps.
---
Luftens Hjaltar
(Swedish 1992-1994)
Voice Talents:
Baloo Bear                 Jan Koldenius
Ville (Kit Cloudkicker)    Jimmy Bjorndahl/Ulf Bergstrand
Rebecca                    Monica Forsberg
Molly                      Mia Kihl
VildKatt (Wildcat)         Ander Ojebo
Don Karnage                Ingemar Carlehed
Knapphund                  Ulf Kallvik
Louie                      Bertil Engh
Shere Khan                 Roger Storm
Kapten Flygbas             Ingemor Carlsen
Bluffa V                   Myrra Malmberg
Bludder                    Ulf Kallvik
Waldo                      Anders Ojebo
Trukken (Dumptruck)        Roger Storm
Prins                      Anders Ojebo
Tensen                     Roger Storm
Kapten Hetspone            Hans Lindgren
Radiorost                  Bertil Engh
Valle Pilot                Ulf Kallvik
Hamnchef                   Hasse Andersson
Djarve Dan                 Roger Storm
Fred                       Stephan Carlsen
Bluffe                     Roger Storm
Missan Klofinger           Christel Korner
Additional Voices:
Gunilla Eriksson
Jasmine Wigortz
Gunilla Orvelius
Ida Nolemo
Dick Ericksson
Thomas Banestal
Benny Andersson
Daniel Bargfalk
Tommy Berg
Hasse Gustavsson
Bo Manitette
Ulf Johansson
Other Notable Credits:
TaleSpin Theme "Flygplan"  Ander Ojebo and Thomas Banestal
Text                       Monica Forsberg
Dubbing                    KM Studios, Karlskoga, Sweden
Creative Consulting        Kirsten Saabye
Dub Producer               Monica Forsberg
Overlay                    Monica Forsberg/Lasse Torefeldt, Mat Wansblad
Footnotes:
[1.] Mia Kihl (Molly) in the Swedish version of TaleSpin is not really as special as Janna Michaels was in the American version of TaleSpin since Mia also voiced Max in the Swedish version of Goof Troop.
[2.] Jimmy Bjorndahl (Kit) voiced Roo in the Swedish version of The Adventures of Winnie The Pooh.
---
Chudesa Na Virajah
(Russian -1992, 1998)
Special thanks to Denis V. Sidorov for the list of voices and additional notes for this version of TaleSpin.
Voice Talents:
Kit Vetrogon            M. Vinogradova
Baloo                   R. Suhoverko
Molly Cunningham        L. Gnilova 
Rebecca Cunningham      V. Talisina 
Balamut(Wild Cat)       A. Lenkov
Don Karnage             Y. Volintsev 
Other Notable Credits:
Directed: Irina Filimonova 
Dubbing: Central TV studio(Moscow)
Footnotes:
[1.] Debutted 01/01/1992 on 1st National Channel (in Russia there are only two National Channels).Voices belong to the best actors of Moscow theatres. They are doing this work with love and are very emotional. After seven years TaleSpin was remembered in Russia. In 1998; Egmont publishing published a TaleSpin book in Russian.
---
"The Little Hero In The Sky"
(Chinese)
Voice Talents:
Kit Cloudkiker:           Lin Fangxu
Baloo Bear:               Lei Weiyan
Molly Cunniham(Jasmine):  Xu Shubin
Rebeca Cunniham:          Wang Bing
Don Karnage:              Jiang Xinchen
Shere Khan:               Due Dexun
Wildcat:                  Sun Decheng
Lousie:                   Sheng Guangpin
Other Notable Credits:
Dubbing Director:         Wang Huayi
Footnotes:
Epilogue: Li Peng is also considered a huge TaleSpin fan; however, he is very critical of the Chinese version of TaleSpin. While many Disney movies have been wonderfully dubbed in Chinese; Disney Television Animation has been at best just plain awful. Most of Plunder and Lightning's song lyrics were so poorly dubbed that you'll end up rolling on the floor laughing your head off realizing how awful it is. It is not a good sign particually for songs such as The Sky Pirates Theme Song. It's sad and digusting to see that Disney would allow this to happen considering that the Russian and French Canadain versions are considered some of the best versions; with the Russian version being even more emotional than the American version.... However; there are some interesting notes about the show that may or may not make up for the poor dubbing... so here they are:
[1.] In China; TaleSpin's symbolic meaning is "The Little Hero In The Sky" not "To Spin A Tale". It could mean or prove that Kit Cloudkicker was not only the focus/central character of the series; but also the main character of the story. It makes sense since Kit Cloudkicker's surfing on an airfoil was considered the main reason why TaleSpin itself was approved by the Disney execs in 1988. Of course; the sky is very big and everyone would be considered little in the end; so its not completely clear.
[2.] Kit Cloudkicker is translated as "The Boy Surfing In The Universe, Kit". This one is crystal clear since Kit is best known for skipping on clouds on a surfboard. I agree with Li that this is a very cool name. (A word I rarely use.)
[3.] Molly's name is translated as a type of flower: "Jasmine". This is very strange because Disney's Aladdin also has a female character named Jasmine although Molly is only through meaning.
[4.] As expected; the episode "Last Horizons" is not avaiable in China because of the negative image given to the country. Otherwise all other episodes are the same as the PC version of TaleSpin. Many Thanks to Li Peng for discussing this with me at the Kit Cloudkicker Fan Club.
[5.] UPDATE: In fact, I'd like to say that I'm surprise that I can find it after almost a year of searching astray. I was just searching it in Hong Kong for almost all time (through the internet), asked many friends there about it, got no answer, and I nearly gave up all hopes, just then, about one month ago, a friend of mine recommend me the Mandarin (official chinese spoken language) dubbing version of Talespin and advised me to search its voice actors in Taiwan. Thinking it would be the last try, I turned my direction towards Taiwan and the fact proves it's a right choice. The dubbing director of "The Little Hero in the Sky" came across the message I'd left in one BBS, then he contacted me... I remember that I said I was very unsatisfied with the chinese dubbing of Talespin, yes, I do and I won't change my attitude towards it in this lifetime.:) But, that's the cantonese (the mostly used dialect of chinese language) version. In China, Animation always gets two dubbing versions: the Mandarin version and the Cantonese one. And Hong Kong is always in charge of the cantonese version while Taiwan in charge of the Mandarin one. (Maybe the poor Cantonese dubbing of Talespin explains why I can't never find the namelist of its voice actors.) Well, anyhow, I find it,it's been worth all the work.:) Well, please forgive me for being so expatiatory on this, but I feel it's my responsibility to make this diference clear after watching the mandarin version of Talespin, btw, which's really well dubbed.The best voice, I think, is Karnage's. I've never heard that the Mandarin could be spoken that way, precisely grasping Karnage's characteristics while having a tongue of French and Spanish.The second is Kit and Baloo's voices,especially Kit's, the person who dubs him is an about-30-year-old lady who I used to think as only a little kid.
---
Olam Scharchar
(Israeli - 1994/1995-1997)
Voice Talents:
Dov Raizer
Doron Ben Ami
Ami Mendelman
Limor Shapira
Rina Daniely
Ohad Shahar
Itzik Sydof
Gil Zamek
Avi Penini
Other Notable Credits:
Director         Shafrira Zackay
Dubbing          Raz films Ltd. (Sirtey Raz Ltd.) Israel. 
Footnotes:
[1.] TaleSpin was broadcasted in Israel somewhere around 1994-1995 Or 1995-1997 (I can't really remember...) During a show named "Disney time" (After translation to english) who was and still is broadcasted at the 2nd national channel. On the hebrew translation, TaleSpin is titled "Olam Scharchar", That means "Spining World". I believe that it was translated to this only because TaleSpin, In a direct translation to hebrew, Will be a less attractive title for this kind of cartoon...Try the title "Story's Spin" and you'll get the picture.
[2.] Unlike other international versions of TaleSpin, Most of the main chracters remained with their original names:
Baloo = Baloo
Kit Cloudkicker = Kit Cloudkicker etc.
But of course, Characters like Wildcat had to replace their names from time to time, For example, Using English to Hebrew:
Wildcat = Chatul Pereh
But the meaning of the names was basically the same.
[3.] The voices of the hebrew version are very good, But, if you compare them to the English dubbed version you'll notice that most of the voices are alike except for the voices of the pirates, Rebecca, Spigot and a few minor chracters. A big part of the voice talents were using their voices on a lot of other cartoons,Especially on other Disney cartoons. Personally, I prefer the original (English dubbed) version of TaleSpin, The hebrew translation is great, Especially with Baloo, The jokes are still funny, But the hebrew dubbed version of TaleSpin lacks the "Cape Suzzetian accent" (From a well understood reasons...).
---
TaleSpin
(Dutch)
Credit goes to Wouter Servaas for compiling the credit for this version of TaleSpin.
Voice Talents:
Baloe                   Jan Anne Drenth
Koning Lowietje         Rob van de Meeberg
Shere Khan              Paul van Gorcum
Kit Blitskikker         Moshe Burmeister 
Rebecca Honingham       Lucie de Lange
Molly Honingham         Kirsten Fennis
Wildkat                 Reinder van der Naalt
Don Ravage              Carol van Herwijnen
Kolonel Spagaat         Hein Boele
Sergeant Bonker         Ger Smit
Dashond                 Jan Nonhof
Bullebak                Paul Klooté
Additional Voice        Marloes van den Heuvel
Additional Voice        Nico van de Knaap
Additional Voice        Fred Meijer
Additional Voice        Bram Bart
Footnotes:
[1.] I think in the Netherlands we've a Jewish Kit. Cool! Kit's voice isn't unique here, the same person also did the voice of Cody in The Rescuers Down Under and he also did Kouav Kid in Lion King 2: Simba's Pride.
---
Kapt'n Balu Und Seine Tollkuhne Crew
(German 1992-1993)
Voice Talents:
Balu                         Tom Deininger
Kit Wolkenflitzer            Tobias Muller
Rebecca                      Miriam Agishewa
Molly                        Daniela Reidis
WildKatz                     Frank Lenart
Louie                        Dieter Kursawe
Don Kanaille                 K. Dieter Klebsch
Oberst Kuebel (Spigot)       Frank Lenart
Footnotes:
[1.] The German tapes of TaleSpin episode was released in 1993. It is believed that the television series in German was released in 1992; however, an actual date has yet to be confirmed. Channel Super RTL was the channel for the German version's airing of the series.
[2.] From Banjofinder: The show was first shown on ARD TV Channel (The Disney Club). The German voice who dubbed Don Karnage was in the German dub of Seinfeld.
---
TaleSpin (テイルスピン)
(Japanese 1992-1993)
Baloo/Baru Bear (バルー 熊)              Daisuke Gōri
Kit Cloudkicker (クラウドキッカー, キット) Yōko Matsuoka
Rebecca Cunningham (カニンガム レベッカ)  Kazue Komiya
Molly Cunningham (モリー)               Konami Yoshida
Don Karnage (ドン カーネージ)            Hiroya Ishimaru
Louie/Loei (ルイ)                      Hiroo Oikawa/Ritsuo Sawa

Footnotes:
[1.] The Japanese verison aired the same year Ducktales aired in Japan between Feb. 3rd, 1992- July 15th, 1992 on WOWOW and TV Tokyo. On April 6th, 2022; the show was finally released in Japan on Disney+ complete with a legit Japanese dub. I'm guessing it's the WOWOW 1992 dub since Daisuke Gori would have passed away in 2010. More details to come...
---
TaleSpin
(Italian 1992/1993)
Voice Talents:
Baloo                    Michele Kalamera
Kit Cloudkicker          Simone Crisari
Rebecca Cunningham       Graziella Polesimati
Molly Cunningham         Antonella Baldini

Dubbing Studio/Transmission Studio: Rai Uno
Footnotes:
[1.] I think they released TaleSpin in Italy around 1992 or 1993. The source didn't give me a date. Anyway; the actors are regular dubbers (I think the source where I got the voice actors from also had some data on them.) who normally dub US and Japanese productions. I read that the voice of Rebcca (or Molly; I'm not quite sure) also did a number of Japanese anime.
[2.] The character names were not given; so I assume that they are the same as the US version (or whatever was found on my TaleSpin Translations Page.).
[3.] Here is a website for Simone Crisari: Click Here! Simone was born in Roma, Italy in 1981..Some of the voices I found (that were in English): Last Action Hero (Danny), The Pagemaster (Richard Tyler), Avalon (Michael Kaye), The War (Stu), Jumanji (Alan), Andre (Mark), Blue Moon (T.J. Medieros), D3: The Mighty Ducks (Averman), Sea People (Peter), Galaxy Express 999 (Tetsuro Hoshino), An American Tale: Fievel Goes West (Fievel), Baywatch (Hobi Buchannon), Ocean Girl (Jason Bates), Dream On (Jeremy Tupper), Dharma & Greg (Donald), Hercules (Teseo), Goof Troop (Max), The Little Mermaid: The Animated Series (Riccio), SuperDoll Rika-Chan (Dai Takabayashi), Maison Ikkoku (Nikaido), Violence Jack (Saburo) and Son Goku (Saiyuki) among others.
---
Super Baloo
(Polish 1990)
Voice Talents:
Baloo                     Jan Prochya
Rebeka                    Agnieszka Pilaszewska
Kit Chmurolap             Katarzyna Tatarak
Shere Khan                Mariusz Leszczynski
Don Karnage               Krzysctot Tyniec
Pulkownik Szpunt (Spigot) Adam Ferency
Louies                    Andrzej Arciszewski
Ciapata (WildCat)         Aleksander Mikolajczak
Molly                     Magdalena Wolejko
Dunder                    Piotr Gasowski
Additional Voices:
Jan Kulczycki
Jacek Czyz
Ryszard Olesinski
Norbert Jonak
Other Credits:
Polish Dubbing Studio     Master Film
Directed                  Henryka Biedrzynska
Dialogue                  Elzbieta Kowalska
Sound                     Urszula Ziarkiewicz
Editing                   Agnieszka Kolodziejczyk
Direction Production      Romuald Cieslak
Sound Text                Andrzej Brzeski
Sound Editor              Eugeniusz Majchrzak
Song Artists              Wiktor Zborowski
                          Jacek Bonczyk 
                          Leszek Abrachamowicz
                          Mieczyslaw Moranski 
Footnotes:
[1.] Special Thanks to Krzysztof (Baloo) Bobola for the credits.
---
Super Baloo (Looping)
(France (Quebec & New Burnswick, Canada/Belgium/Switzerland) 1991)
Voice Talents:
Baloo                    Benoit Allemane
Kit                      David Lesser
Rebecca Cunningham       Genevieve Taillade
Turbo                    Jose Lucioni
Unknown                  Michel Mella
Footnotes:
[1.] Super Baloo debuted in France on September 1st, 1991 on TF-1 Disney Club. Looping debuted on CBC Radio Canada French in 1991. Belgium got the Looping version in 1993 under the programme Chambard on RTL-TVI; and Switzerland also got the same version via Suisse Romande.
[2.] David Lesser's Credits: Ninja Senshi Tobikage (Mike), Dragon Ball Z (Son Goten, Son Gohan, Oub), Kong (Jason Jenkins), Les Adventures of Titin (Tchang), Power Rangers (Rocky DeSantos/Red Ranger), Power Rangers Turbo (Rocky DeSantos), Power Rangers Zeo (Rocky DeSantos, Zeo Ranger Blue 3, Prince Sprocket, D'Aquiter Blue Ranger), Kashi no Ki Mokku (Pinocchio), Les Moomins (Pipo), Sophie et Virginie (Paul [First Season]), Les Pastagums (Jim [First Season]), Christophe Colomb (Christopher Colombus as a child).

[3.] Super Baloo and Looping use the same dub; only the titles are slightly different.
[4.] Super Baloo was used for the TaleSpin Volume 1 DVD for French audio.
Planete Jeunesse Profile
Wikipedia France
---
Luften Helte - "Heroes of The Air"
(Danish 1992)
Voice Talents:
Louie Lamount                    Peter Belli
Baloo                            Kjeld Norregarrd
Kim Luftskipper                  Laus Hoybye
Shere Khan                       Nis Bank Mikkelsen
Rebecca                          Vibeke Dueholm
Vildkat                          Lars Thiesgaard
Footnotes:
[1.] Heroes of the Air is a loose English translation.
[2.] The Danish version of TaleSpin aired in 1992 on an one hour show called Disney Fun.
[3.] Laus Hoybye's Credits: Fiveil (An American Tail 2), Young Hercules (Hercules), Scamp (Lady & The Tramp II: Scamps Adventure), Additional Voices ( Winnie The Pooh, A Goofy Movie, Tarzan, Cecilia), Krumme (Krummerne & Krummerne 2), Camping (Dregen Billy), Kenny (Skjulte Spor)
Special thanks to Ulika (?sp) for the credits.
---
Esquadrilha Parafuso
(Brazil 1990)
Voice Talents:
Balu                             Marico Seixas
Kiko Chutanuvenus                Peterson Adriano
Rebecca Cunningham               Vera Miranda
Molly Cunningham                 Irene Cruz
Damiao                           Carlos Seidl
Rei Louie                        Antonio Patino
Shere Khan                       Jorge Ramos
Don Karnage                      Jomery Pozzolli
Footnotes:
[1.] In Brazil; the show was transmitted by Rede Globo.
[2.] Peterson Adriano's Credits: Bart Simpson (The Simpsons), Speed Racer (Speed Racer), Kevin (Ben 10), Coltrane (Phineas & Ferb), Valentino (Tiny Toons), Zack Taylor (Power Rangers), Spike (X-Men: Evolution), Koenma (Yu Yu Hakusho), Anakin Skywalker (Star Wars), Eddie (Beyblade), Kuzco (Emperor's New School) and more....
Source of Credits for Kit
Wikipedia Entry
---
As Aventuras do Balu
(Portugal 1990)
Voice Talents:
Balu                             Nuno Tavora
Kiko Chutanuvenus                Mario Boma
Rebecca Cunningham               Claudia Cadima
Molly Cunningham                 Carman Omai
Damiao                           Joaquim Monchique
Rei Louie                        Paulo Oom
Shere Khan                       Doigo Rebelo
Don Karnage                      Joao Didelet
Footnotes:
[1.] No further information is available at this time.
---
Pilpalipilotit
(Finland 1992)
Voice Talents:
Baloo                            Pekka Lehtosaari
Louie                            Eeki Mantere
Villi-kissa                      Jarkko Rantanen
Rebekka Kankimaki                Tiina Bergstrom-Kosunen
Don Karnage                      Petri Liski
Molli Kankimaki                  Henna Haverinen
Kai Kaakuri                      Christopher Romberg
Kai Kaakuri (2nd)                Konsta Hietanen
Toralian johtajan henkivartija   Mikko Kivinen
Shere Khan                       Esa Saario
Footnotes:
[1.] Was broadcast on MTV3 and Kolmoskanava in 1992 and 2007.
---
TaleSpin (Cynep Bany)
(Bulgarian 1996)
Voice Talents:
Petar Evangelatov
Sonya Kostadinova
Diana Gerova
Georgi Mitev
Other Credits:
Song performed by: Chocho Vladovski
Translation: Delyana Naydenova
Editor: Maiya Pachnikova
Organiser: Iva Romanova
Computer titles: Sonya Penkova
Montage (video editing): Madlena Ivanova
Assistant director: Aneliya Lyokova
Production manager: Nina Kostova
Sound Director: Ivan Vasilev
Dubbing director: Krasimir Rizov

"This film has been translated in the First BNT Dubbing Complex."
"Cinema and Managing of Foreign Programming, BNT '96"
Footnotes:
[1.] Special Thanks to Youtube user Deyamegara for the information.
[2.] According to Deyamegara: The Bulgarian translation team at BNT always redid the credits this way from 1992 to 2000. They probably thought it was important to list everybody from the team, and they removed the original credits. In the earliest translations even the writer and director are not listed. Also note that the word "Disney" is never written until the ending logo (not even a copyright message is placed). After 2002, the original English titles were left in and the translation team was only listed in two shots.
---
Return to the TaleSpin Cast & Crew Homepage
Return to the Unofficial Kit Cloudkicker Homepage
---
Disclaimer: All images shown here are (C) 1990/1991 Walt Disney Company and are being used without premission. The webmaster has made sure that no money was made in the creation of this webpage and that all material represented here are being used with the upmost affection and respect to the Walt Disney Company and the Tale Spin team.
---
Special thanks to 50 Webs for providing space for this webpage. Click here to find out how you can get your free homepage and 600 Megabytes of webspace.